"using the force to help a child smile"
F.U.N.(

FORCE UNITED NIAGARA

) is made up of Volunteers/individuals who are part of other Star Wars Fan Groups accross Niagara and surrounding areas such as the 501st Canadian Garrison, Rebel Legion, and other local groups.
Since 2007 our volunteers have shared the same goal, passion and enjoy nothing more than to bring a smile to a childs face no matter what age.
We have helped Charieties such as Help A Child Smile, Make A Wish Foundation and Jace Wars (RMH) but certainlly not limited too.
So heres to all our volunteers

THANK YOU....and may the Force be with you all...
This web site or any Events organized by this web site is in no way associated, endorsed or sponsored by Lucasfilm Ltd, Disney. or George Lucas and/or all STAR WARS affiliated and related entities are the sole property of Lucasfilm Ltd. No infringement is intended.








updated July , 2015
TOTAL RAISED TO DATE -

$19,558.35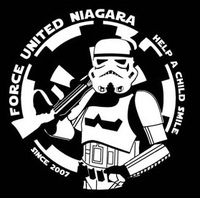 Site is under construction